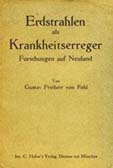 It may seem an odd subject on which to start but if you were to Google 'Baron Gustav Freiherr von Pohl' you would find many references to work this highly respected German aristocrat and medical researcher carried out in Bavaria in 1929 – and the links he discovered between detectable energy lines emanating from underground watercourses and incidences of chronic disease, particularly cancer. You will find references in scientific journals and to the book he published on the subject in 1932. Then nothing – only a note to the fact that he died in 1938. It is as if he disappeared.
Educated at The Heatherley's School of Fine Art and the City of London College of Art, married to Dulys with one daughter and living in Croydon Thomas Flowerday Clarke started his working life in the late 1890's in commodities – tea, rubber, iron, steel and travelling the 'empire' as it still was then. His father, himself a businessman and evidently uncomfortable with his son's artistic leanings, approved. In the early 1900's circumstances forced Tom, as his friends knew him, to set up his own brokerage business in London – soon becoming London agent for the large German industrial conglomerate Krupp Eisenhandel.  The business relationship blossomed as did his social involvement in the higher echelons of German industrial society and in early 1914 he became engaged to the daughter of one of the Rhineland industrial magnates.

Then war, suspension of business and the mourning of lost relations, the death of his fiancée from whom he had been separated over the war years in the post war Spanish flu epidemic,  marriage in 1921 at the age of 45, the boom years of the roaring 20's, fatherhood and the great depression of the early 30's. Then in the mid 30's and out of the blue a letter from one of his old German friends, a close friend of Gustav von Pohl, asking for Tom's help. Gustav, a fervent anti Nazi, had 'flown' Germany for London in fear of his life. Leaving all his property behind he had fled in great haste with just one small suitcase and knew nobody in England other than Tom.

By now a full time artist, Tom tracked him down to a small hostel in London and took him back to his Croydon home as a guest – an open ended invitation. He lent Gustav clothes, for they were of similar build, and bought back from pawn three personal items of value that Gustav had himself sold to raise some money – to return to him.

Gustav was as one of the family but having managed to transfer some assets out of Germany and after a stay of several months he moved into his own lodgings in Croydon. In his gratitude he gave Tom two possessions that he had brought with him from Germany, both dear to him – his father's 18ct gold pocket watch and his own set of dress studs, silvery cabochon moonstones in 18ct gold with matching cufflinks – the chain link comprising a double loop. The epitome of simple, timeless and elegant design.

Passed down to me through Tom's daughter, my mother, you will not find it had to imagine how they have become greatly treasured. For their simple beauty alone the set of dress studs are a delight to wear but their real value lies in the way they connect to a very personal family story – one of adversity, kindness, friendship and generosity – at a very difficult time.  It is warming to reflect on such things and a reminder of how better one should strive to be in such measures.
Other than in antique jewellery shops and only then very occasionally it is difficult to find pieces like that any more and so about 9 years ago the tiniest seed of an idea took root – to create a range of cufflink designs that are simple, elegant and timeless – honouring the tradition of European jewellery design and manufacture but with a contemporary twist.
Of course there are many other influences and each has left its mark as the idea grew. You will see Gustav and Tom's in the designs – and in the eternity symbol adopted as a motif – embracing the A and the R – Alistair Robbie, me – Alistair R
After a sudden and short illness Gustav died in 1938 and as Tom mourned the loss of one he affectionately described as 'a good old friend' he too was admitted into hospital with a serious heart condition.
From this point life took an altogether different turn. But we'll leave it there for the time being and maybe look at another big influence in 2 or 3 weeks – and an even larger stride back in time!